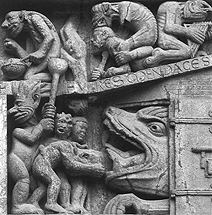 Dumville, D. N. "Towards an Interpretation of the Fís Adamnán." Studia celtica 12–13 (1977–78):62–77. Details editions, translations, and manuscripts, and then proceeds to examine earlier treatments of the text in terms of the eschatology evidenced in the work. Discusses the relationship between the FA and the Visio Pauli. Concludes that the author combined a number of sources with very different backgounds of eschatological thought, which he managed to reconcile into a coherent work.
James, M. R. "Syriac Apochypha in Ireland." Journal of Theological Studies 11 (1910):290–91. Briefly discusses a link between the FA and the Syriac apocryphal work, Obsequies of the Holy Virgin — the clearest evidence James had yet "encountered of obligation on the part of an Irish writer to an oriental text."
Kenney, James, 444–45. Brief discussion of the text, list of mss, and a bibliography up to 1929.
Seymour, St. John Drelincount. "The Vision of Adamnán." Proceedings of the Royal Irish Academy 37c.15 (1927): 304–12. Analysis of the VA in its four surviving texts as a composite work of two main divisions, as Boswell charted them (sections 1–20, 31 and perhaps 32 to end, 21–30). The first is based on a four-fold division of souls immediately after death with a description of the ascent of two classes through the seven heavens; the second is a supplement describing the unpleasant side of the otherworld, which Seymour sees as at odds with the rest of the work, presenting unsolved problems.
SOURCES & STUDIES
Easting, Robert, and Richard Sharpe, ed. "Peter of Cornwall: 'The Visions of Ailsi and His Sons." Mediaevistik 1 (1988): 207– 63. Study of Peter of Cornwall's treatment of the series of visions experienced by Ailsi, with information on Peter, his life and writings, mss of his writings, his sources, and the Cornish background of his work. Presents Latin edition of the text from the Lambeth Palace Library MS 51.
Easting, Robert, and Richard Sharpe, ed. Peter of Cornwall's "Book of Revelations" (Toronto: PIMS, 2013), 202–15. Edition of Latin text with facing English translation.
Sharpe, Richard, and Peter Hull, ed. and trans. "Peter of Cornwall and Launceston." Cornish Studies 13 (1985): 5–53. Edition and translation of text with parts of the study that appears in entry above.
Ancona, Alessandro D'. I precursori di Dante. Florence: G. Sansoni, 1874, 3–66. Treats the antecedents of Dante in general. and gives some particular attention to the Paul, Brendan Tundale, Patrick and Alberic visions. He does not make firm connections between these and the Divine Comedy, but indicates a general millieu of vision literature, which does not detract from Dante's originality.
Carozzi, Claude. Le Voyage de l'âme dans l'au-delà d'après la littérature latine, Ve-XIIIe siècle Le Voyage de l'âme dans l'au-delà d'après la littérature latine, Ve-XIIIe siècle (Rome: École Française de Rome, 1994), 495–97, 589–97.
Dinzelbacher, Peter. "Die 'Vision Alberichs' und die 'Esdras–Apokryphe." Studien und Mitteilungen zur Geschichte des Benediktiner–ordens und seine Zweige 87 (1976): 435–42. Discusses the VA in the context of apocryphal literature and especially the Visio Ezra, with a brief textual comparison.
Guercio, Luigi. Di alcuni rapporti tra le visioni medievali e la Divina Commedia. Rome: La Vita Letteraria, 1909.
Lauri, Achille. "Dei due Alberici da Settefrati, Monaci di Montecassino." Rivista storica benedettina 6 (1911): 208–20. Distinguishes the monk Alberic of Settefrati (b. 1101) from the cardinal Alberic of Settefrati (b. 1008). Also discusses the influence of this vision on the Divine Comedy.
Ovidio, Francisco d'. Nuovi studi danteschi. Il Purgatorio. Milan: Hoepli, 1906, 433–69. In the context of Dante's "Purgatorio" Ovidio discusses the non–eternal nature of punishment in the VA; also discusses the Vision of Tundale in this context.
Rasettl, Gerardo. "Die Vision Alberichs in einem Frasko des 13 Jahrhunderts." L'illustrazione Vaticana 4(2)/Jg. 1933, 103ss.
Torraca Francesco, I precursori della "Divina Commedia," in Le opere minori di Dante Alighieri. Florence: Sansoni, 1906, 311–40; also in Nuovi studi Danteschi nel VI centenario della morte di Dante, Naples: Federico e Ardia, 1921, 269–307.
SOURCES
Du Méril, Edelestand, ed. Poésies populaires latines antérieures au douzième siècle. Paris: Brockhaus et Avenarius, 1843, 200–17.Edition of Latin text with notes.
PL 151:643–52. Reprint of Du Méril (above).
Gamberini, Roberto, ed.Visio Anselli. Il racconto di Ansello Scolastico e dell'Anonimo sulla visione infernale di Oddone di Auxerre. Florence: Galluzzo, 2008. Edition of Latin text based on three known manuscripts with Italian translation and introduction.
Leclerq, Jean. "Une rédaction en prose de la 'Visio Anselli Scholastici' dans un manuscrit de Subiaco." Benedictina 16 (1969): 188–95. Edition of Latin text with introduction that briefly describes the vision, compares the prose and verse versions, and confirms Wilmart's thesis (see below) regarding the dedicatee of the vision.
STUDIES
Carozzi, Claude, Le Voyage de l'âme dans l'au-delà d'après la littérature latine, Ve-XIIIe siècle Le Voyage de l'âme dans l'au-delà d'après la littérature latine, Ve-XIIIe siècle Collection de l'Ecole Francaise de Rome, 189 (Rome: École Française de Rome, 1994), 412–26.
Dolbeau, François. "À propos de la Visio Anselli." Comptes rendus des séances de l'Académie des Inscriptions et Belles-Lettres, 153.4 (2009): 1267-76. Based on the discovery of a late transcription of correspondence between Odon and Ansellus (student and master, respectively), Dolbeau concludes that the visionary was not Odon, but an anonymous monk possibly, but not certainly, from the abbey of Odon and suggests that a more appropriate name for this vision would be the "Vision of a Pilgrim Monk." However this letter does not help clarify the the abbeys where the two men were residing.
Ermini, Filippo. "La 'Visio Anselli' e l'imitazione nella 'Divina Commedia." Medioevo Latini: Studi e ricerche. Ed. Filippo Ermini. Modena: Società tipografica modenese, 1938, 311–15.
Shoaf, Richard A. "Raoul Glaber et la 'Visio Anselli Scholastici." Cahiers de Civilization Médiévale 23 (1980): 215–19. Discusses the relationship of the two versions of the VAS with the vision of the Harrowing of Hell in Book 5 (after 1044) of the Historiarum libri cinque of Raoul Glauber (monk of St. Germain d'Auxerre from 1035).
Shoaf, Richard A. "The Visio Anselli Scholastici. Exegesis and the Frustration of Aethiop." Mittellateinisches Jahrbuch 17 (1982): 46–50. Discusses how the devil's frustrating role as the one who enlightens is treated with humor in the VAS.
Walther, Hans. Initia carminum ac versum medii aevi posterioris latinorum. Gottingen: Vandenlioeck & Ruprecht, 1959, p. 459, entry 9091. List of manuscripts and editions.
Wilmart, André. "La lettre–préface de la 'Visio Anselli Scholastici." Analecta Reginensia. Vatican City: Vatican Library, 1933, 283–85. Discusses the light that this letter from Ansellus to Odon, abbot of St. Germain, sheds on the writing of this vision. Presents a critical edition of the letter based on Vatican Reg. Lat. 73, fol. 56v and two additional mss.
SOURCES
AS 3 (Feb. 1):409–500. Edition of Latin text.
Klein, Darius M. "Ecstatic Vision of a Medieval Saint: The Vision of St. Ansgar." http://christianlatin.blogspot.com/2008/09/ecstatic-vision-of-medieval-saint.html English translation of text from Rimbert's Vita Anskarii.
MGH 2:690–92. Critical edition of Latin text by C. F. Dahlmann with brief introduction concerning mss and editions.
PL 18:962–64. Latin edition of St. Rimbert's Vita Anskarii, from Mabillion, AB 6.
Robinson, Charles H., ed. Anskar, Apostle of the North 801–865. London: Society for the Propagation of the Gospel, 1921, 30–34. English translation of the Vita, which contains the Visio in Ch. 3. Includes a bibliography on the Vita, with information on mss on p. 21; bibliography on pp. 22–24.
Trillmich, W. "Vita Anskarii." In Quellen des 9 und 11 Jahrhunderts zur Geschichte der Hamgburgischen Kirche and des Reiches. Ed. by R. Buchner. Darmstadt: Wissenschaftliche Buchgesellschaft, 1961, 3–133. Edition of text by Rimbert.
Waitz, G., ed. Rimbert's Vita Anskarii. Hannover: Scriptores rerum Germanicarum, 1884. Discusses the mss and early editions in preface. Presents annotated, critical edition of Rimbert's Latin text.
Haupt, Richard. Schriften des Vereins für Schleswig–Holsteinische Kirchengeschichte 2 (1926): 236–58.
Lammars, Walther. "Ansgar: Visionäre Erlebnisformen und Missionauftrag." Speculum historiale. Festschrift for Johannes Spörl. Ed. by Clemens Bauer, et al. Freiburg: K. Alber, 1965, 541–58. Study of the relationship between Ansgar as visionary and as missionary.
Levison, Wilhelm. (Schriften des Vereins für Schleswig–Holsteinische Kirchengeschichte, 2 (1926): 163–65 on the Vita and the place of visions in this historical document.
Mehnert, G. "Ansgar als Visionär, Em Beitrag zur Geschichte des christlichen Vision des Frühmittelalters." Schriften des Ve reins für Schleswig– Holsteinische Kirchengeschichte, 2 (Beitilge und Mitteilungen) 21(1965): 44–67. Examines the wider meaning of Ansgar as visionary, discussing twelve different visions occurring in the Vita Anskarii (in chs. 2–5, 9, 25, 27, 29, 35, 36, 38 and 40), with a recapitulation of previous scholarship, especially discussing related articles by Richard Haupt and Wilhelm Levison (above) on the Vita and the place of visions in this historical document.
SOURCES

Leslau, Wolf. Falasha Anthology. New Haven: Yale University Press, 1951, 69–74.

SOURCES
Carozzi, Claude, Le Voyage de l'âme dans l'au-delà d'après la littérature latine, Ve-XIIIe siècle Le Voyage de l'âme dans l'au-delà d'après la littérature latine, Ve-XIIIe siècle Collection de l'Ecole Francaise de Rome, 189 (Rome: École Française de Rome, 1994), 246–59.
Contreni, John J., "Building Mansions in Heaven: The Visio Baronti,Archangel Raphael, and a Carolingian King," Speculum 78.3 (2003): 673–706 at 705–06.
Levison, Wilhelm, "Die Politik in den Jeneseitsvisionen des frühen Mittelalters," in idem, Aus rheinischer und frankische Frühzeit (Düsseldorf: Verlag L. Schwann, 1948), 229–46. [Originally published in Festgabe Friedrich von Bezold (Bonn, 1921), 81–100.]
Rachel Stone, and Charles West, eds., Hincmar of Rheims: Life and Work(Manchester: Manchester University Press, 2016). Although this book has little to say regarding the Vision of Bernoldus, it does elucidate much about Hincmar and his political milieu, which comprises an essential component of this work.
van der Lugt, Maaike. "Tradition and Revision. The Textual Tradition of Hincmar of Reims' Visio Bernoldi. With a Critical Edition." Archivum Latinitatis Medii Aevi, Académie des Inscriptions et Belles Lettres, 1994, pp.109-149. Brief introduction to the text, its three versions and four surviving manuscripts (pp. 109–38).
The Marriage of Heaven and Hell, by William Blake,
English, 1793

SOURCES
Ciccarese, 286–92. Latin text based on Pousa (136) with facing Italian translation. Includes brief introduction (276–79) on the nature of this work with regard to the others in the collection. Provides some notes (298–301) to the text.
PL 87:433–35. Reprint of the diplomatic edition of the Latin text edited by Henrique Flórez et al., in Espana sagrada, 51 vols. (Madrid: Gabriel Ramirez, 1762), 16:382–85.
Pousa, Ramon Fernández, ed. San Valerio: Edicion critica con Xlll facsimiles. Madrid: Instituto Antonio de Nebrija, 1942, 115–18. Critical edition.
STUDIES
Aherne, Consuelo Maria, ed. Valerio of Bierzo: An Ascetic of the Late Visigothic Period. Washington, D.C.: Catholic University Press, 1949, 57–61. Brief discussion of the three visions (Baldarius, Bonellus, and Maximus) with comparison to Valerio's autobiographical writings and to each other. Each of the visions is apparently related to Valerio by the visionary himself. Claims that "the accounts of the three visions are among the most interesting of Valerio's writings." Includes a general, select bibliography on Valerio.
SOURCES
Vincent of Beauvais. Bibliotheca mundi seu Speculi maioris. Vol. 4, Speculum historiale. Douay: B. Belleri, 1624; rpt. ed. Graz: Akademische Druck–u. Verlagsanstalt, 1965, 1125–26. Book 27, ch. 84–85. Latin text entitled, De revelatione inferni facta Guillelinopuero.
Gardiner, 129–33. Includes English translation of vision with notes and bibliography.
Hariulf. Chronicon Centulense ou Chronique de l'Abbeye de Saint?Riquier. Ed. by Ernest Prarond. Trans. by the Marquis Le Ver. Mémoires de la Socìété d'Emulation d'Abbeville. Abbeville: Fourdrinier, 1899, 153–58. French translation with a few notations and no real introduction.
Hariulf. "Die Vision Kaiser Karls III." Neues Archiv der Gesellschaft für altere deutsche Geschichtskunde 27 (1902): 399–08,493–502.
Hariulf. Chronique de l'Abbaye de Saint?Riquier. Ed. By Ferdinand Lot. Paris: Picard, 1894, 144–50. Introduction on the life and works of the author, as well as a discussion of the Chronicon Centulense, its sources and influences, the transmission of the text and the basis for this Latin edition.
PL 174: 1287–91. Edition of Hariulf, Chronicon Centulense, reprinted from the Spicilegium Dachery.
William of Malmesbury. De Gestis Regum Anglorum Libri Quinque, Historiae Nouellae Libri Tres. Ed. By William Stubbs. Rolls Series 90. London: Public Record Office, 1807, 1:112–16. Annotated critical edition of Latin text.
William of Malmesbury. History of the Kings of England. Edited by John Sharpe. London: Longman, Hurst, Rees, Orme & Brown: 1815, 117–21. English translation of Gesta regum based on printed sources and mss, esp. London. B.L. Reg. 13, D. II. The vision appears in Bk. 2, ch. 2 (CE 855).
William of Malmesbury. Chronicle of the Kings of England. Ed. by J.A. Giles. London: Bohn, 1847, 102–5. English translation based on London, B.L. Reg. 13, D. II. Introduction discusses William, his writings, his style, and the early editions of his Chronicle.
STUDIES
Dutton, Paul Edward. "Charles the Fat's Constitutional Dreams," in The Politics of Dreaming in the Carolingian Empire. Lincoln, NB: University of Nebraska Press, 1994, 225–51.
Poupardin, Rene. "La date de la Visio Karoli tertii." Bibliothèque de l'Ecole des chartes 64 (1903): 284–88. Dates the Vision of Charles the Fat to shortly after Charles' death, placing it in or around the diocese of Rheims.
Silverstein, Theoodore. "'Inferno' XII 100–126 and the 'Visio Caroli Crassi.'" Modern Language Notes 51 (1936): 9–52. Remarks on Dante's precedent of the Vision of Charles the Fat for the punishment of those who out of greed for earthly things are guilty of bloodshed and rapine.
Lieberman, Saul. Texts and Studies. New York, KTAV, 1974, Chapter: "On Sins and Their Punishments."
The Vision of Fatima, by Lucia Santos, Portuguese, 1917
SOURCES
PL 145: 433–34. Text included in chapter six of Peter Damian's De abdicatione episcopus.
Vossler, K. La 'Divina Commedia': studiata nella sua genesi e interpretata. Bari: G. Laterza, 1927, 1:186–87; new ed. Bari: Laterza, 1983. (ED: not sure about this reference.)
Ovidio, Francesco d'. Studi sulla "Divina Commedia." Caserta: Moderna, 1931, 297. (ED: not sure about this reference.)
SOURCES
Archambaut, Paul J., ed. and trans. A Monk's Confession: The Memoirs of Guibert of Nogent. College Park, PA: Penn State Press, 1995, 64–68.
Benton, John F. Self and Society in Medieval France. New York: Harper & Row, 1970, 93–97. English translation (based on the translation of Bland, below) of the memoirs of Abbot Guibert of Nogent, with introduction.
Bland, C.C. Swinton. The Autobiography of Guibert of Nogent. Intro, by G. G. Coulton. London: Routledge, New York: Broadway Translations, 1925, 73–79. English translation of Latin text.
Bourgin, Georges, ed. Guibert de Nogent: Histoire de sa Vie. Collection de textes pour servir à l'étude et à l'enseignemeni de l'histoire. Paris: Picard, 1907. Modern edition of Latin text.
Le Goff, Jacques. The Birth of Purgatory. Translated by Arthur Goldhammer. Chicago: Chicago University Press, 1984 (originally published as La naissance du purgatoire. Paris: Gallimard, 1981), pp. 181–86. In the context of a study on the development of Purgatory in the twelfth century and the relationship of that development to the social history of the period, a brief discussion of the importance of the Guibert text with an English translation based on the translation in Benton (above).
PL 156:876–77. Edition of the Latin text of Guibert abbatis De Vita sua libri tres.
Rubenstein, Jay, and Guibert. Monodies; And, On the Relics of Saints: the Autobiography and a Manifesto of a French Monk from the Time of the Crusades. New York: Penguin Books, 2011.
McLaughlin, Mary M. "Survivors and Surrogates: Children of Parents from the Ninth to Twelfth Centuies." The History of Childhood. Ed. by Lloyd deMause. New York: Psychohistory Press, 1975, 101–81. Discusses the childhood of Guibert and his relationship to his mother.
Paul, J. "Le démoniaque et l'imaginaire dans le De Vita sua de Guibert de Nogent." In Le Diable au Moyen Age. Senefiance 6. Aix-en-Provence: CUERMA, Paris: H. Champion, 1979, 371–99. Discusses the presence of the devil in Guibert's work, which should not he interpreted as an effort by the clergy to edify the laity but as a reflection of a real belief in the devil.